Respiratory therapists are the frontline healthcare workers focused specifically on treating patients with breathing and cardiopulmonary disorders. Disease prevention, respiratory wellness, and care related to emphysema, asthma, cardiac failure, chest trauma, and more—it's all in the wheelhouse of the respiratory therapist.
From premature infants experiencing respiratory distress to aging seniors with increasing rates of COPD and pneumonia to, most recently, the tens of thousands of Americans being hospitalized for respiratory complications due to COVID-19, the demand for respiratory therapists has never been stronger and, as a result, salaries are coming in hot.
Whether their skills and expertise are being put to the test in a cardiac catherization lab, neonatal unit, or busy ER, respiratory therapists enjoy a prime position within the healthcare team and are often viewed as valuable "physician extenders;" working hand-in-glove with doctors to diagnose, evaluate, and care for patients with cardiopulmonary problems.
<!- mfunc feat_school ->
Featured Programs:
Sponsored School(s)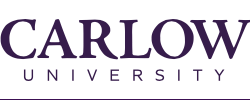 <!- /mfunc feat_school -><!- mfunc search_btn -> <!- /mfunc search_btn ->
From signing bonuses to multiple job offers to competitive salaries, the job market for these healthcare professionals is heating up and getting more exciting all the time. And with the era of COVID-19 putting a premium on the unique skillset RTs have, that's never been truer than it is right now.
---
Salaries for Respiratory Therapists: Who's Earning What and Where
Other Factors Affecting Respiratory Therapist Salaries
Where the Respiratory Therapy Profession and Respiratory Therapist Salaries Are Headed
---
Find Respiratory Therapist Salary Info For Your State
Salaries for Respiratory Therapists: Who's Earning What and Where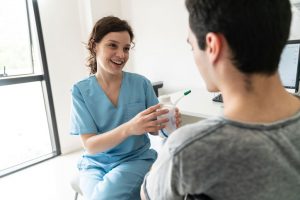 According to the Bureau of Labor Statistics (BLS), respiratory therapists earned an annual, average salary of $63,950 ($30.75/hour), as of May 2019. The top earners in the field, who likely come with a resume that includes several years of experience, a bachelor's or master's degree, and one or more specialty certifications, earned at least $86,980 ($41.82/hour) during this time.
PayScale also reported the average hourly wage for respiratory therapists working in some of the nation's largest healthcare systems during this time. While some average salaries lagged behind the national average, many exceeded it:
Lincare Inc.: $25/hour
HCA, Inc.: $27/hour
Kindred Healthcare: $29/hour
Banner Health: $26/hour
Dignity Health: $37/hour
Apria Healthcare Group: $30/hour
As expected, more experience generally means a higher average hourly wage, according to PayScale:
Less than one year: $23.07
1-4 years: $24.40
5-9 years: $26.61
10-19 years: $28.62
20+ years: $30.79
According to BLS statistics, salaries for respiratory therapists often vary based on the type of facility in which they're employed. Although most settings revealed average hourly wages around $30/hour, those working in outpatient care centers earned nearly $10 more an hour:
Outpatient care centers: $82,050 ($39.45/hour)
General medical and surgical hospitals: $64,120 ($30.83/hour)
Specialty hospitals (e.g., rehabilitation facilities, hospice care, etc.): $65,260 ($31.37/hour)
Skilled nursing facilities: $62,190 ($29.90/hour)
According to the BLS, the top-paying states for respiratory therapists fall in line with those states that have a higher cost of living:
California: $83,920
Washington D.C.: $80,130
Nevada: $77,760
New York: $79,900
Hawaii: $76,610
It's a similar story for the top-paying metro areas for respiratory therapists, all of which are located in California, where the cost of living trumps nearly any other state in the U.S.:
Salinas, CA: $101,520 ($48.81/hour)
Sacramento, CA (includes Roseville, Arden, and Arcade): $98,810 ($47.51/hour)
San Francisco, CA (includes Oakland and Hayward): $97,950 ($47.09/hour)
San Jose, CA (includes Sunnyvale and Santa Clara): $97,37 ($46.81/hour)
To gain an accurate picture of how far your salary will take you depending on where you live, check out one of the many cost-of-living calculators (we like this easy-to-use one through CNNMoney). For example, a $100,000 a year salary as a respiratory therapist in Sacramento, CA, is the same as a salary of $86,284 in Atlanta, GA, or a salary of $72,901 in St. Louis, MO.
Other Factors Affecting Respiratory Therapist Salaries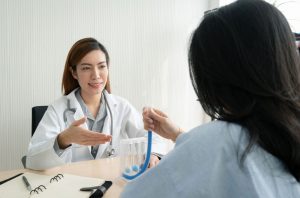 Chances are your earning potential as a respiratory therapist will vary depending on:
Signing, Relocation Bonuses
With demand often outstripping supply in many parts of the country, competitive salary packages include impressive signing bonuses that often reach $5,000 or more. Plus, many hospital HR departments are increasing their recruitment reach and luring respiratory therapists from different cities and states with hard-to-pass-up relocation bonuses.
Bachelor's and Master's Degrees
While the associate's degree remains the minimum educational requirement to become licensed as a respiratory therapist in the U.S. (with the exception of Alaska, where respiratory therapists are not licensed), this hasn't stopped many RTs from earning a bachelor's degree or even master's degree, for a number of reasons:
While no recent stats are available, a 2014 AARC Human Resources Survey revealed that RTs with bachelor's degrees earned about $3,000 more than their associate's-prepared colleagues.
Bachelor's and master's degrees in respiratory therapy are often the minimum educational requirement to assume higher-paying positions like manager, director, educator, or researcher, as well as similar roles like disease manager, case manager, or clinical specialist.
The U.S. Department of Health and Human Services has long reported the value of advanced degrees in respiratory care, noting that many employers prefer candidates with bachelor's or master's degree in respiratory therapy.
The naturally expanding scope of the respiratory therapist profession, thanks to an increasingly complex healthcare environment, has resulted in a nationwide push for the bachelor's degree as the new educational minimum.
The American Association for Respiratory Care (AARC) has called for 80% of all respiratory therapists to either hold or be working toward a bachelor's degree by 2020 and have called on schools throughout the nation to award a minimum of a bachelor's degree in respiratory care.
While this shift in minimum degree requirements to the bachelor's hasn't come to fruition just yet, it has caused many aspiring and current respiratory therapists to rethink their choice of an associate's degree – not only to ensure they meet future licensing requirements but to also remain competitive in the profession and earn a higher paycheck.
Specialty Certifications
Add a specialty certification or two to your resume and you'll boost both your professional opportunities and your earning potential.
For example, according to PayScale, respiratory therapists with neonatal intensive care unit (NICU) skills earned about 5% more than their counterparts, while those with pediatric intensive care unit (PICU) skills or long-term care skills earned 2% more.
The National Board for Respiratory Care (NBRC) offers the following specialty certifications:
Sleep Disorders Specialist (SDS)
Neonatal/Pediatric Specialist (NPS)
Adult Critical Care Specialty (ACCS)
Where the Respiratory Therapy Profession and Respiratory Therapist Salaries Are Headed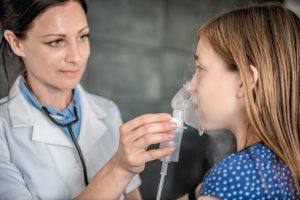 The respiratory therapy profession continues to transform to meet the needs of a constantly changing healthcare environment. These changes have the ability to revolutionize the practice of respiratory therapy and the profession as a whole.
In 2020, the AARC Board of Directors introduced the scope of practice for a new RT role: the advanced practice respiratory therapist. These professionals would work under a supervising licensed physician, as opposed to current RTs who are limited to a physician's written order.
Similar to advanced practice registered nurses (APRNs), this newly defined role will provide RTs with far more practice autonomy and new opportunities to significantly boost their earning potential.
Stay up to date on the latest news for this emerging RT role through the AARC.
Salary and employment data compiled by the United States Department of Labor's Bureau of Labor Statistics in May of 2019. Figures represent accumulated data for all employment sectors in which respiratory therapists work. BLS salary data represents average and median earnings for the occupations listed and includes workers at all levels of education and experience. This data does not represent starting salaries. 
All salary and employment data accessed August 2020.